Biblioteca DEA SABINA
Tishani Doshi -POESIE- Un dio alla porta
-Interno Poesia Editore-A cura e traduzione di Andrea Sirotti-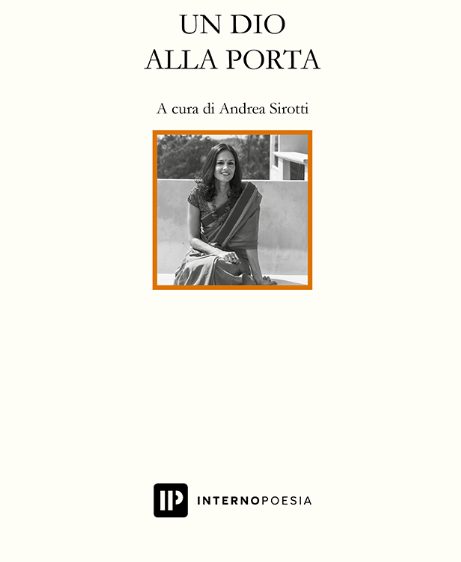 Tishani Doshi libro Un dio alla porta–Interno Poesia Editore-traduzione di Andrea Sirotti
Cella
Se anche potessi percorrere i corridoi
del tuo corpo, non sapresti in quali stanze
entrare, quali siano piene di pietra. Dentro di te
c'è tantissima acqua – una catena montuosa
a nord per tener lontani gli invasori, un deserto
nelle colonie batteriche del sud. Qui
ci sono edifici cittadini, ingialliti, senza finestre,
occupati nella fabbricazione di vaccini e borse.
Qui una doppia elica infilata lungo tutta
la tua spina come una sequela di stendardi tibetani.
Tra questi avamposti sfrecciano i messaggeri,
trasportando tubi di pelle animale, piccioni sulla schiena.
C'è chi cavalca arieti, c'è chi viaggia con ombre consorti
sui carri attraverso i cieli senza fermarsi una volta
a guardare le stelle. Una volta arrivati è quasi sempre
lo stesso. Devono togliersi i sandali e aspettare
all'ingresso della grotta – la sua piega di pelle,
una tenda per intrappolare il vento. Vogliono dirti
che i grandi fuochi bruciano ancora, le api
non rinunceranno alle loro unioni, il raccolto è sia
luna che autunno. Tu non sei sola.
Mandala
Chiunque creda che una foglia sia solo una foglia non coglie
il punto. C'è una fotografia in soffitta, un gingko
che ingiallisce sempre più, mentre il corpo
del gingko rimane sempreverde. Si apre la strada
attraverso fumerie d'oppio e bordelli. Ti vorrei dire di non
preoccuparti. La realtà sa come sistemare se stessa,
ma il panico è contagioso. Lo spavento arriva quando fai
i jumping jack o organizzi le posate, in un momento di basso
dramma cosmologico. Interrotto dalla scoperta di un nodulo.
O dal TG delle 9. Di colpo, ogni maniglia di porta è una sentenza
di morte. Quanto si devono essere sentiti soli i primi astronomi,
congelati in terrazza, cercando di afferrare la luce di lune lontane.
Qualche volta è difficile capire se state rallentando
o accelerando. Il trampolino del tempo ci confonde.
Cuciamo i nostri giorni e le notti, gli uni alle altre,
ed è come ricamare una galassia, ma pure le galassie
arretrano l'una dall'altra. Una volta, una donna mi ha suonato
il corpo come se fosse un'arpa. Ho dormito su una tavola di legno
e lei strimpellava le corde sotto finché non son diventata
uno squalo balena, che batte gli oceani. Ne sono riaffiorata
come da un tunnel gravitazionale, integra, più o meno. Per giorni
ho sentito le pinne al posto delle guance. Parliamo di corpi come se non
potessimo comprendere l'universo che hanno dentro,
anche se stiamo tutti a bocca aperta davanti al ceppo di un albero
e abbiamo capito che il tempo si sposta verso l'esterno in un cerchio.
E mentre tutto appare infinito, c'è sempre un anello
di una cosa permeabile che ci trattiene dentro. A volte usciamo
di casa senza maschera ed è un sollievo fare una pausa
da ciò che siamo. Stella nana, campana di preghiera, cervo solitario
che si nutre nella ginestra – qualcosa ci terrà uno specchio davanti
alla faccia, quando ci serve solo che qualcuno ci porti al piano di sopra.
Macroeconomia
Un uomo siede su un altro se ce la fa.
Il cuore di un uomo batte più forte. Un uomo va
in miniera perché un altro uomo risplenda.
Un uomo muore così la famiglia che vive in cima alla collina
può mangiare panini sul prato. Il salvadanaio di un uomo
ottiene un bailout. Un uomo rovescia il carretto della verdura di un estraneo.
Un uomo resta a casa e gioca a tombola finché tutto questo non si placa.
Un uomo si avvia come un pellegrino allo Shambala47, con un bimbo
sulle spalle. Un uomo chiede chi andrà fuori a comprare
il latte e le uova? La casa di un uomo è oltre l'orizzonte.
Un uomo decide di andarci a piedi anche se ci vorranno giorni
e notti sull'asfalto con poco cibo e acqua.
Un uomo viene fermato per vagabondaggio e costretto a fare piegamenti
per penitenza. Un uomo riferisce che i pesci saltano
fuori dal mare e succhiano avidamente l'aria.
Un uomo mangia la tessera del pane. Uno osserva come gli storni
hanno preso il volo come un mal di denti,
una bassa fame continua, librandosi attraverso i campi.
Un uomo carica la pistola. Un uomo ha in carico l'altalena.
Uno vuole ridistribuire le prugne. Uno sa
che non esistono pranzi gratuiti. Uno alla fine vede
il crepaccio. Uno dà la sua coperta all'uomo
seduto nel crepaccio. Uno dice che dovrebbe esserci una tassa
per aver fatto una cosa del genere e la riprende. La fossa si allarga.
Forse quello che ti manca sono le cose semplici,
che non è l'infanzia, ma quell'uccello
rapace che afferra l'aria con gli artigli.
Se tu sapessi che non costerebbe nulla
tenere le ali aperte come un albatro,
che potresti andare per diecimila miglia senza
un solo battito d'ali, che deve essere così,
questo glissando tra impennata e caduta,
potresti impacchettare le tue indignazioni
e andare verso la cabina telefonica
nel cielo. Un dio alla porta seduto
su un bufalo gigante ti offre un sorso
di vino per far passare l'amarezza.
La tua ultima telefonata è verso il futuro,
Stiamo bene, dici. Staremo tutti bene.
Un dio alla porta (Interno Poesia Editore, 2022), cura e traduzione di Andrea Sirotti
DESCRIZIONE
Travolgente, disorientante, genuinamente «civile», la poesia di Tishani Doshi arriva per la prima volta in Italia con un libro in cui intimo, pubblico e sacro si intrecciano e danno vita ad una voce unica e originale. Una lingua composita e meticcia, assertiva, non di rado bizzarra, colta e popolare al tempo stesso, ricca di espressioni e parole che raramente trovano cittadinanza in poesia. Una formidabile eloquenza e vitalità in cui i versi liberi, cadenzati, pensati per essere letti ad alta voce, sono disposti con estro e consapevolezza sulla pagina. Quella di Doshi è una militanza a 360° gradi. Nessuna questione di scottante attualità è esclusa, in India come altrove nel mondo. Le poesie sgorgano dalla cronaca e dalla storia, dalle ultime notizie come dai vecchi rancori e contrapposizioni, lo spunto può essere un articolo di giornale, un video su YouTube, una foto, un dipinto, un libro. Poesie sempre pronte a denunciare le disuguaglianze, il mancato rispetto dei diritti civili. Tra i temi ricorrenti: la condizione della donna, le diseguaglianze economiche e sociali, le trasformazioni esistenziali in tempo di Covid, le relazioni sentimentali, la malattia, le difficoltà quotidiane del singolo individuo; il tutto mediato dalla contrapposizione di due visioni del mondo, tra laica indifferenza e fanatismo religioso, tra spiritualità e materialismo.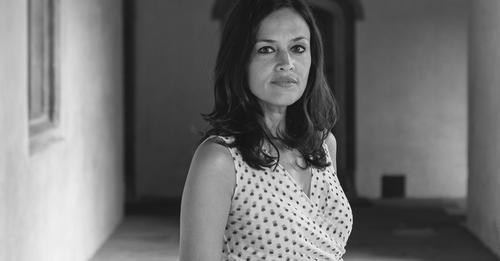 Un dio alla porta
Interno Books
Autore: Tishani Doshi
Curatela e traduzione: Andrea Sirotti
Collana: Interno Books
ISBN: 978-88-85583-71-9
Data di pubblicazione: 1 giugno 2022
Pagine: 236
Formato: 15×21 cm
Cell
Even if you could walk through the corridors
of your body, you would not know which rooms
to enter, which were full of stone. Inside you
there is so much water —a mountain range
in the north to stave off invaders, a desert
in the bacterial colonies of the south. Here
are city buildings, yellowed, without windows,
busy with the making of vaccines and handbags.
Here a double helix strung up the length
of your spine like a flurry of Tibetan prayer flags.
Between these outposts the messengers dart,
carrying tubes of animal hide, pigeons on their backs.
Some ride rams, some travel with consort shadows
in chariots across the skies without once stopping
to look at stars. When they arrive it is almost always
the same. They must remove their sandals and wait
by the mouth of the cave —its fold of skin,
a curtain to trap the wind. They want to tell
you the great fires are still burning, the bees
won't give up their unions, the harvest is both
moon and autumn. You are not alone.
Mandala
Anyone who believes a leaf is just a leaf is missing
the point. In the attic, there's a picture of gingko
growing steadily yellow, while the body
of gingko remains evergreen. He works his way
through opium dens and bordellos. I'd like to tell you
not to worry. Reality has a way of sorting itself out,
but panic is infectious. The scare arrives when you're doing
jumping jacks or organising the cutlery, some moment of low
cosmological drama. Interrupted by the discovery of a lump.
Or the 9 o'clock news. Suddenly, every door handle is a death
sentence. How lonely it must have been for the first astronomers,
freezing on their terraces, trying to catch the light of faraway moons.
Sometimes it's hard to know whether you're slowing down
or speeding up. Time's wobbly trampoline confuses us.
We stitch our days and nights, one to the other,
and it's like embroidering a galaxy, but even galaxies
recede from one another. Once, a woman played my body
as though it were a harp. I slept on a wooden plank
and she strummed the strings below until I became
a whale shark, pounding through the oceans. I emerged
as if out of a wormhole, more or less intact. For days I felt fins
where my cheeks should have been. We talk of bodies
as though we could not understand the universe within them,
even though we've all gaped at the stump of a tree
and understood that time moves outwards in a circle.
And while everything seems endless, there's always a ring
of something permeable holding us in. Sometimes we leave
the house without our masks and it's a relief to take a break
from who we are. Dwarf star, prayer bell, lone stag
feeding in the gorse—something will hold a mirror
to our faces, when all we need is to be led upstairs.
Macroeconomics
One man sits on another if he can.
One man's heart beats stronger. One man goes
into the mines for another man to sparkle.
One man dies so the family living at the top of the hill
can eat sandwiches on the lawn. One man's piggy bank
gets a bailout. One man tips over a stranger's vegetable cart.
One man stays home and plays tombola till all this blows over.
One man hits the road like a pilgrim to Shambala, child
on shoulders. One man asks who's going to go out and buy
the milk and eggs? One man's home is across the horizon.
One man decides to walk there even though it will take days
and nights on tarmac with little food and water.
One man is stopped for loitering and made to do squats
for penance. One man reports fish are leaping
out of the sea and sucking greedily from the air.
One man eats his ration card. One man notices how starlings
have taken to the skies like a toothache,
a low continuous hunger, searing across the fields.
One man loads his gun. One man's in charge of the seesaw.
One man wants to redistribute the plums. One man knows
there's no such thing as a free lunch. One man finally sees
the crevasse. One man gives his blanket to the man
sitting in the crevasse. One man says there should be a tax
for doing such a thing and takes it back. The ditch widens.
Maybe what you miss is what's simple,
which isn't childhood, but that bird
of prey holding the air with its claws.
If you knew it would cost nothing
to keep your wings open like an albatross,
that you could go ten thousand miles without
a single flap, that it has to be this way,
this glissando between soaring and falling,
you could pack up your indignations
and move towards the phone booth
in the sky. A god at the door sitting
on a giant buffalo offers you a sip
of wine to make the bitterness go away.
Your final phone call is to the future,
We're fine, you say. We're all going to be just fine.
Un dio alla porta
Autore: Tishani Doshi
Curatela e traduzione: Andrea Sirotti
Collana: Interno Books
ISBN: 978-88-85583-71-9
Data di pubblicazione: 1 giugno 2022
Pagine: 236
Formato: 15×21 cm