Biblioteca DEA SABINA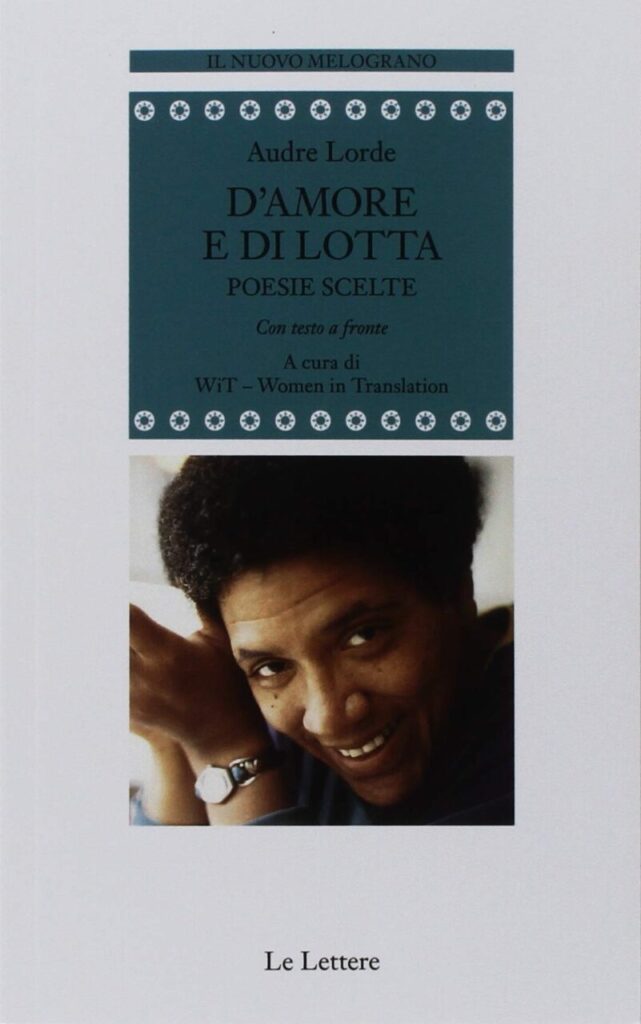 Audre Lorde -5 poesie da "D'amore e di lotta": Poesie scelte
con saggio di Daniela Maurizi-Editore Le Lettere 2018-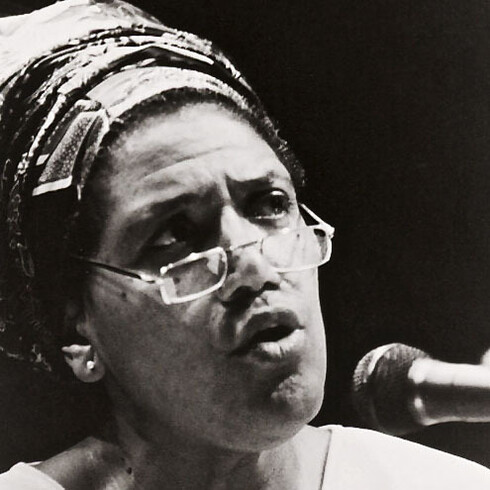 Le poesie seguenti sono tratte da D'amore e di lotta. Poesie scelte a cura di WiT, Women in Translation (Le Lettere, Firenze 2018)
da The Black Unicorn (1978)-
Litania per la sopravvivenza
Per quelle di noi che vivono sul margine
ritte sull'orlo costante della decisione
cruciali e sole
per quelle di noi che non possono lasciarsi andare
ai sogni passeggeri della scelta
che amano sulle soglie mentre vanno e vengono
nelle ore fra un'alba e l'altra
guardando dentro e fuori
e prima e poi allo stesso tempo
cercando un adesso che dia vita
a futuri
come pane nelle bocche dei nostri figli
perché i loro sogni non riflettano
la fine dei nostri;
Per quelle di noi
che sono state marchiate dalla paura
come una ruga leggera al centro delle nostre fronti
imparando ad aver paura con il latte di nostra madre
perché con questa arma
questa illusione di poter essere al sicuro
quelli dai piedi pesanti speravano di zittirci
Per tutte noi
questo istante e questo trionfo
Non era previsto che noi sopravvivessimo.
E quando il sole sorge abbiamo paura
che forse non resterà
quando il sole tramonta abbiamo paura
che forse non sorgerà domattina
quando abbiamo la pancia piena abbiamo paura
dell'indigestione
quando abbiamo la pancia vuota abbiamo paura
di non poter mai più mangiare
quando siamo amate abbiamo paura
che l'amore svanirà
quando siamo sole abbiamo paura
che l'amore non tornerà
e quando parliamo abbiamo paura
che le nostre parole non verranno udite
o ben accolte
ma quando stiamo zitte
anche allora abbiamo paura
Perciò è meglio parlare
ricordando
non era previsto che sopravvivessimo.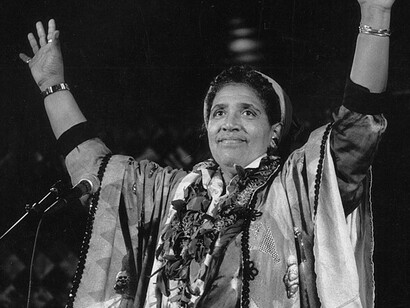 A Litany for Survival
For those of us who live at the shoreline
standing upon the constant edges of decision
crucial and alone
for those of us who cannot indulge
the passing dreams of choice
who love in doorways coming and going
in the hours between dawns
looking inward and outward
at once before and after
seeking a now that can breed
futures
like bread in our children's mouth
so their dreams will not reflect
the death of ours;
For those of us
who were imprinted with fear
like a faint line in the center of our foreheads
learning to be afraid with our mothers' milk
for by this weapon
this illusion of some safety to be found
the heavy-footed hoped to silence us
For all of us
this instant and this triumph
We were never meant to survive.
And when the sun rises we are afraid
it might not remain
when the sun sets we are afraid
in might not rise in the morning
when our stomachs are full we are afraid
of indigestion
when our stomachs are empty we are afraid
we may never eat again
when we are loved we are afraid
love will vanish
when we are alone we are afraid
love will never return
and when we speak we are afraid
our words will not be heard
nor welcomed
but when we are silent
we are still afraid.
So it is better to speak
remembering
we were never meant to survive.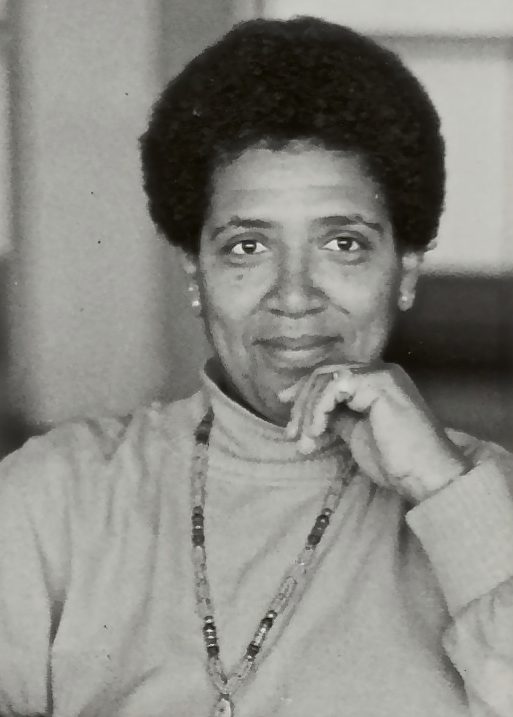 Terapia
Nel tentativo di vederti
i miei occhi si fanno più
confusi
non è il tuo viso
che cercano
con le dita fra i tuoi spazi
come creatura affamata
persino adesso
non voglio
fare una poesia
voglio farti
comporti e scomporti
da me stessa.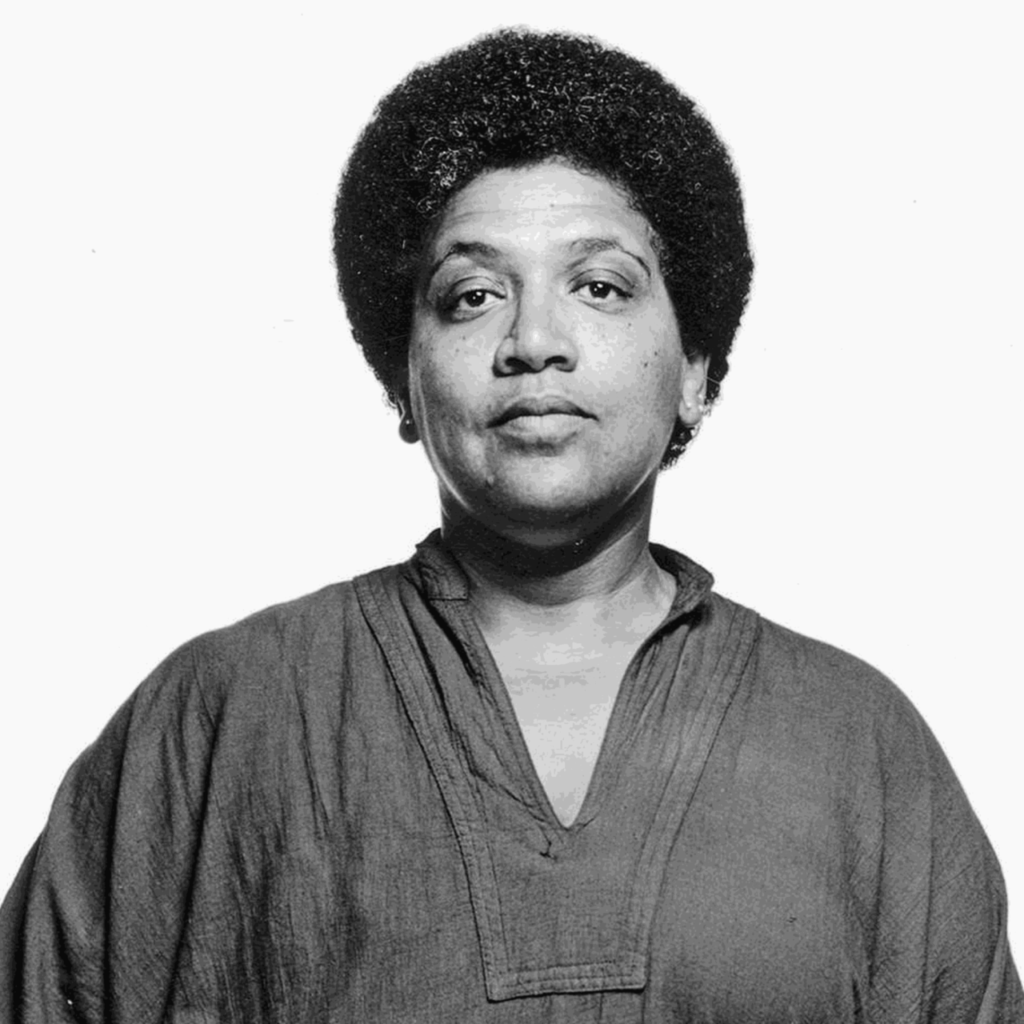 Therapy
Trying to see you
my eyes grow
confused
it is not your face
they are seeking
fingering through your spaces
like a hungry child
even now
I do not want
to make a poem
I want to make you more and less
a part
from myself.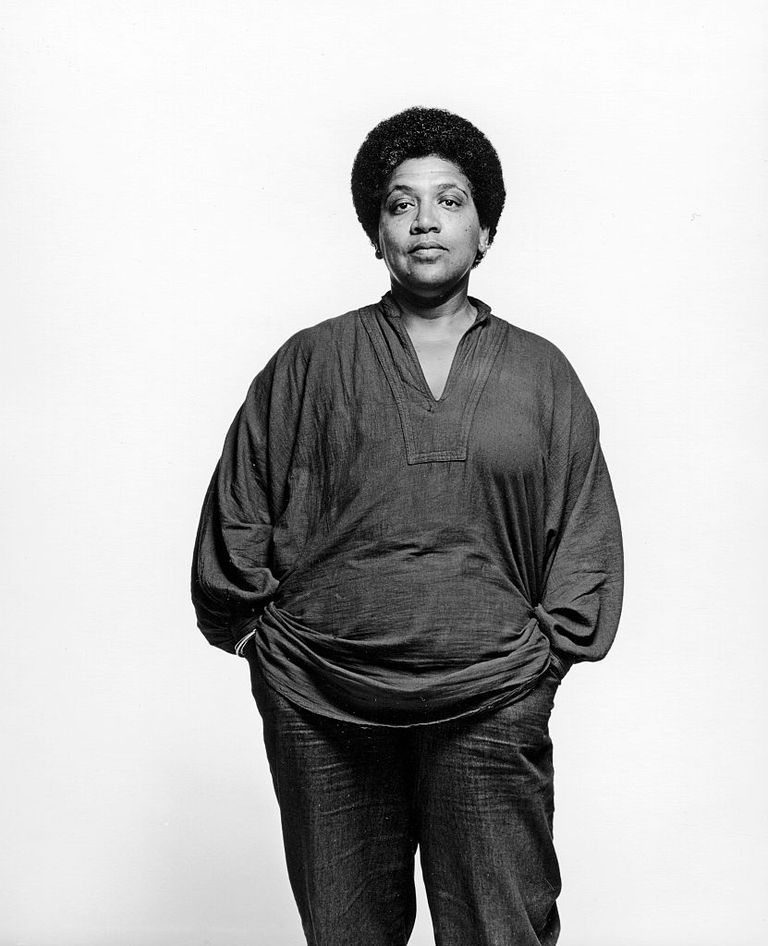 Sorella Outsider
Nascemmo in un'epoca di miseria
senza mai toccare
l'una la fame dell'altra mai
dividemmo le croste
per la paura
che il pane diventasse nemico.
Ora cresciamo i nostri figli
nel rispetto di se stessi
e degli altri.
Ora hai reso la solitudine
sacra e utile
e non più indispensabile
ora
la tua luce risplende luminosa
ma voglio che tu
conosca
la tua oscurità altrettanto
potente
ben oltre la paura.
Sister Outsider
We were born in a poor time
never touching
each other's hunger
never
sharing our crusts
in fear
the bread became enemy.
Now we raise our children
to respect themselves
as well as each other.
Now you have made loneliness
holy and useful
and no longer needed
now
your light shines very brightly
but I want you
to know
your darkness also
rich
and beyond fear.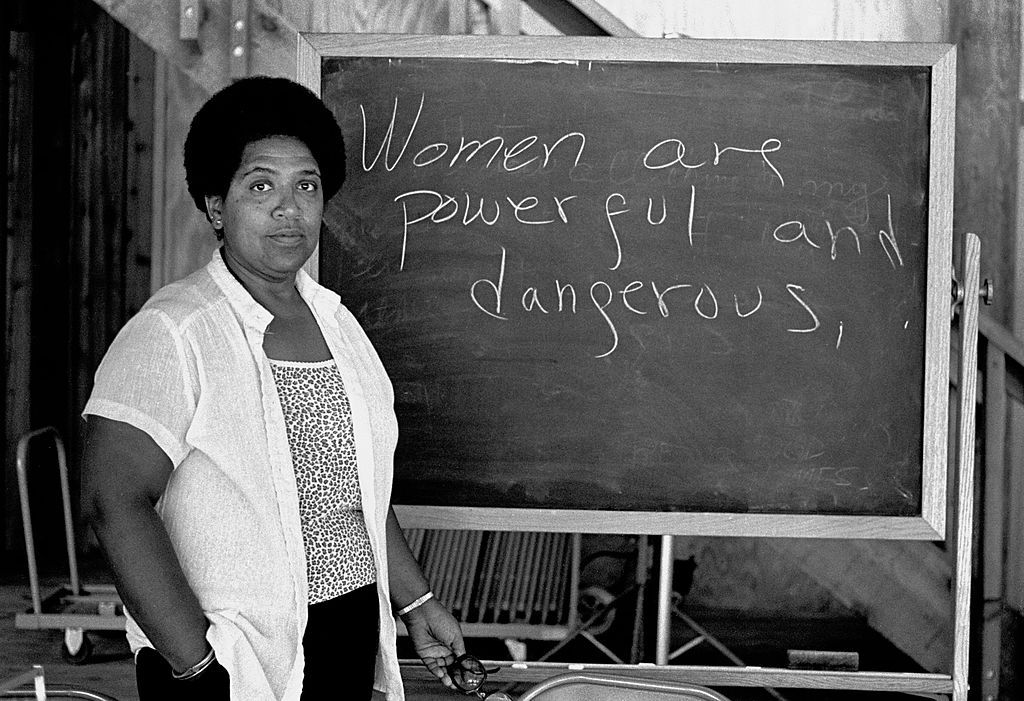 da Coal (1976)
Aria di famiglia
Mia sorella ha i miei capelli la mia bocca i miei occhi
e io la credo diffidente.
Quando era giovane, e aperta a ogni febbre
vestita d'oro come un velo di fortuna sul viso
aspettava in ogni pioggia un sogno di luce.
Ma il sole si alzò
bruciandoci gli occhi come cristallo
sbiancando il cielo di ogni promessa e
mia sorella rimase
Nera, senza fortuna né fede
tremante al primo freddo apparire d'amore.
Ho visto il suo oro diventare un arco
dove l'incubo andava a caccia
lungo i portici della notte insonne.
Ora attraverso echi di negazione
lei cammina sul lato sbiancato della ragione.
Segreta ora
mia sorella non aspetta più
né piange l'oro fuggito dal suo letto.
Mia sorella ha la mia lingua
e tutta la mia carne
senza risposta
e la credo diffidente
come una pietra.
A Family Resemblance
My sister has my hair my mouth my eyes
and I presume her trustless.
When she was young and open to any fever
wearing gold like a veil of fortune on her face
she waited through each rain a dream of light.
But the sun came up
burning our eyes like crystal
bleaching the sky of promise and
my sister stood
Black, unblessed and unbelieving
shivering in the first cold show of love.
I saw her gold become an arch
where nightmare hunted
down the porches of restless night.
Now through echoes of denial
she walks a bleached side of reason.
Secret now
my sister never waits
nor mourns the gold that wandered from her bed.
My sister has my tongue
and all my flesh
unanswered
and I presume her trustless
as a stone.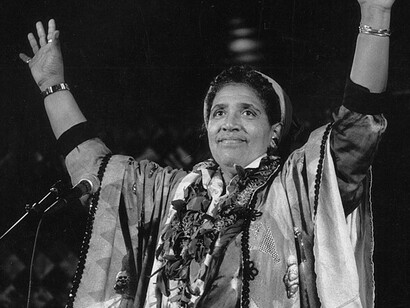 da From a Land Where Other People Live (1973)
Chi ha detto che era facile
Ha così tante radici l'albero della rabbia
che a volte i rami si spezzano
prima di dare i frutti.
Sedute a Nedicks
Le donne si radunano prima della marcia
discutendo dei vari problemi causati dalle ragazze
che assumono per sentirsi libere.
Un barista quasi bianco ignora
un fratello che aspetta servendo prima loro
e le donne non notano e neanche rifiutano
i piaceri più sottili della propria schiavitù.
Ma io che sono incatenata al mio specchio
tanto quanto al mio letto
vedo le cause nel colore
tanto quanto nel sesso
e siedo qui chiedendomi
quale me sopravvivrà
a tutte queste liberazioni.
Who Said It Was Simple
There are so many roots to the tree of anger
that sometimes the branches shatter
before they bear.
Sitting in Nedicks
the women rally before they march
discussing the problematic girls
they hire to make them free.
An almost white counterman passes
a waiting brother to serve them first
and the ladies neither notice nor reject
the slighter pleasures of their slavery.
But I who am bound by my mirror
as well as my bed
see causes in colour
as well as sex
and sit here wondering
which me will survive
all these liberations.
di Audre Lorde, tradotte dal collettivo WiT (Women in Translation)
Per gentile concessione del collettivo WiT.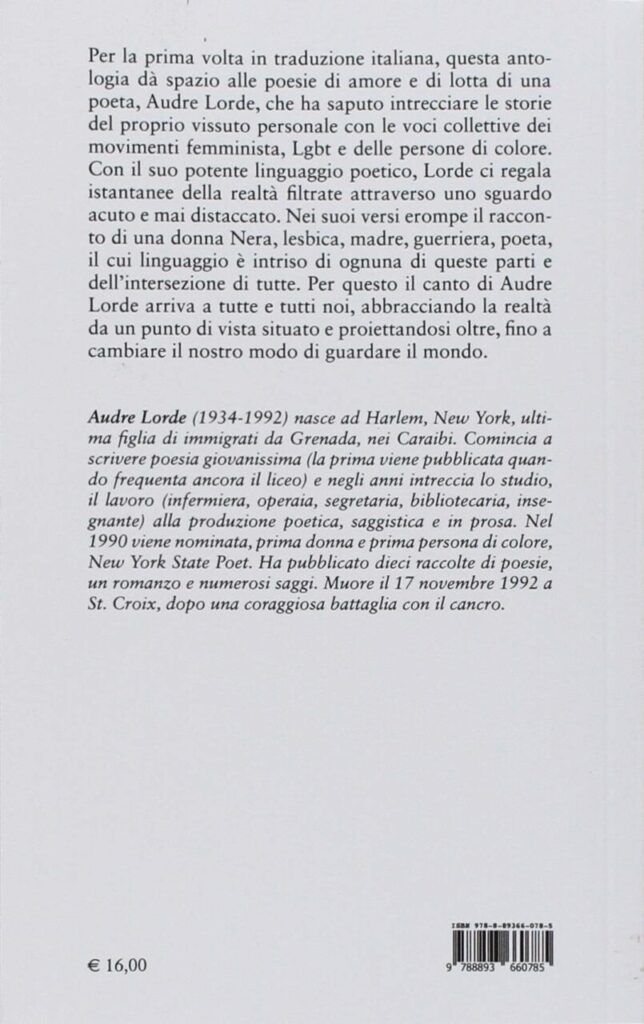 Dalla quarta di copertina del libro "D'amore e di lotta- Poesie scelte", le Lettere, 2018: Per la prima volta in traduzione italiana, questa antologia dà spazio alle peosie di amore e di lotta di una poeta, Audre Lorde, che ha saputo intrecciare le storie del proprio vissuto personale con le voci collettive dei movimenti femminista, Lgbt e delle persone di colore. Con il suo potente linguaggio poetico, Lorde ci regala istantanee della realtà filtrate attraverso uno sguardo acuto e mai distaccato. nei suoi versi eroompe il racconto di una donna Nera, lesbica, madre, guerriera, poeta, il cui linguaggio è intriso di ognuna di queste parti e dell'intersezione di tutte. per questo il canto di Audre Lorde arriva a tutte e tutti noi, abbracciando la realtà da un punto di vista situato e proiettandosi oltre, fino a cambiare il nostro modo di guardare il mondo.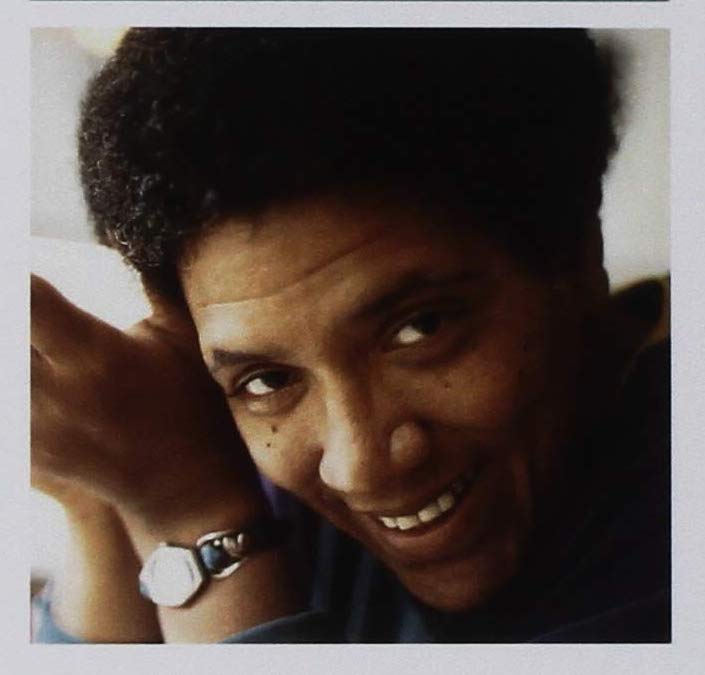 Audre Lorde (1934 – 1992) nasce a Harlem, New York, ultima figlia di immigrati provenienti da Grenada, nei Caraibi. Comincia a scrivere poesia giovanissima (la prima viene pubblicata quando frequenta ancora il liceo) e negli anni intreccia lo studio, il lavoro (infermiera, operaia, segretaria, bibliotecaria, insegnate) alla produzione poetica, saggistica e in prosa. Nel 1990 è la prima persona nera ad essere nominata New York State Poet. Ha pubblicato dieci raccolte di poesia, un romanzo e numerosi saggi, Muore il 17 novembre 1992 a St. Croix, dopo una coraggiosa battaglia con il cancro.